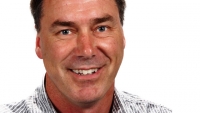 Scott McGillivray is Chief Strategy Officer at iQmetrix, responsible for supporting strategic development and execution, employee development and corporate culture. iQmetrix is a software development company started in Saskatchewan, now the North American leader in POS software for mobile retailers.
HRI: Did you study humanities? If so, what humanities were included in your field of study?
SM: My major wasn't in the humanities. My undergrad degree is in business administration. However, for my electives, I loaded up on psych classes, sociology, anthropology. Where I had a choice, I was really more in the social sciences. The fields of marketing and organizational behaviour are off-shoots of the social sciences: there are strong connections there.
HRI: And you see business and humanities as connected?
SM: Yes. Absolutely! When I was in my early 30s, I got my first executive role, and after a while I realized that the issues I was dealing with were more related to people than dealing with spread sheets, financial statements, or poring over statistical models on market research. I was dealing with Person A and Person B who wanted the same job, or were facing a backlash from our customer base, or were in difficult negotiations with a partner. All those things are issues related to the humanities. I felt I was drawing more on my electives than I was on my actual core classes from my business degree.
HRI: That makes me wonder if it would be beneficial for a business degree to have more humanities.
SM: You know, I actually tried to convince my own children to get undergrad degrees in the social sciences and then work for a couple of years, then go get an MBA. I didn't want them to get a business degree and then an MBA, because what they'll find is that they're six miles deep, but they won't have the breadth of knowledge that they'll need as they progress through their career. I don't know that you can possibly get away from the current structure of the business program, but I would advise people to go right to a BA. Get your BA Honours, or BA Advanced degree, and then face the challenges of writing a thesis about a topic that you're deeply interested in. From there, you're going to find a job in the marketplace. You're going to learn a lot more about what you're interested in and from there you can get a lot more focus on what you do with your Master's degree. There are so many different options today on how to complete a Master's: you don't have to attend full-time. You can work and take classes.
What I would like to see, and something that we're tackling in the near future at iQ is a leadership development program that is two-level. We currently have a leadership development program, but it's like a level one. Level two will actually be based around the humanities. We'll study the classics, philosophy, something like sociology. We're going down that path because we strongly believe that the success of an organization is dependent upon the health of the culture. Health of the culture is dependent upon the capacity of the people who are members of the team to collaborate, communicate effectively, problem-solve: in essence, work as a team. To do that, you really have to understand the human make-up. We have all this technical knowledge and competence, but it really boils down to, can members of a team function well together? If they can, amazing things happen.
HRI: I hear you saying that just to broaden everyone's understanding of being human and understanding humanity is going to help.
SM: Yes. I have a strong belief that humanities matter for business. There's actually been quite a trend over the past five years in popular media related to business to focus on culture. It used to be defined as organizational behaviour, but the focus of senior leadership on culture has become much more intense. Very successful companies have always paid attention to their culture. IBM, HP or the Royal Bank, those companies have always had a very strong sense of their culture. And they've also been very profitable organizations.
HRI: Do you see humanities as relevant in your current business?
SM: Oh, yeah! In our executive team meetings, 20% of our time is spent on topics related to finance, 40% on products and markets and 40% on people and culture. What we're doing as a business is a function of what our people are doing, and our customers and our partners. At the end of the day, we're in the people business. Unless we can function as a team, we're not going to succeed. The counter-argument may be that we just write code and sell software. But, who do we sell software to? Our customers are businesses that are made up of people who make choices about what software they want to have within their companies. How we build software is directly related to how we structure our teams and how they operate.
Our priority is finding the right people, supporting them and creating an environment where they can be successful, and then giving them latitude to function so that they can operate in the areas where their strengths are, but also ensuring we get the job done. We've had teams where they haven't delivered. We were faced with a major decision last March. We lost a contract with a major carrier in the US. There were 50 people on the team. The cash flow related to that project was gone. Do you lay off 50 people? Or do you say, those people made a commitment to the company, this project has failed for a number of reasons, some our own fault, others beyond our control. We could have done things better, we made some bad choices. But the choice in the end was, because individuals made a commitment to the company, as much as possible, there should be a reciprocated commitment, which is a function of our values. Which resulted in deep loyalty from employees. Financially we took a pounding for quite a while: the beginning of 2012 wasn't the greatest, but at the end of 2012, we came out profitable, we made money and the company is stable and strong and in good shape and with strong prospects. I don't think we would have made that choice if we were solely focussed on finances. I think because there's a strong bent within the executive and throughout the company on people, which is a function of understanding the humanities, that's why I believe that choice was made, as opposed to, if it was straight numbers, we would have cut the 50 people in a heartbeat.
HRI: This company has had to go through some growing pains, from just a few people to what you are now, and with your experience here and elsewhere, what would be your advice for someone starting a small business?
SM: Be clear on the type of culture you want, and the kind of people you want to work with. You've got to build the right team. And you've got to do it in the right way. Markets and products and all those sorts of things matter, but it's finding the right people, having a commitment to those people, enabling, or creating an environment where those people can really contribute. If I look at  the history of iQ, we didn't know it at the time, but I have a better understanding of it now, that the people who are successful at iQ are very resilient people. They are able to grow through change. So, find those people who are resilient; those who are flexible. When we first started, there was nothing for customers, but today we're an almost $100 million company. What people have done in this company is truly remarkable.
HRI: Is there anything else you would like to talk about?
SM: One thing I would like to make clear: business doesn't exist unless it makes a profit. A lot of people make the mistake, coming into iQ, thinking, "Oh, it's just fun." Actually, no. You are going to work. And there are days when it's a lot harder than you would like it to be. There has to be a balance between the needs of an organization, the practicalities and the finances, and the individuals and teams. When a business figures out how to balance those things with proper focus on their customers and partners, they're primed for success. And I believe that the humanities plays an equally important role as finances, or being able to write code. They have to coexist for a company like ours.