Jane Austen Festival: Call for Papers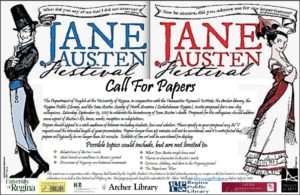 The Department of English at the University of Regina, in conjunction with the Humanities Research Institute, the Archer Library, the Regina Public Library, and the Jane Austen Society of North America (Saskatchewan Region), invites proposals for a one-day colloquium, Saturday, September 23, 2017, to celebrate the bicentenary of Jane Austen's death.  Proposals for the colloquium should address some aspect of Austen's life, times, works, reception or adaptations.
Papers should appeal to a wide audience of listeners including students, fans and scholars.  Please specify in your proposal any A/V requests and the intended length of your presentation.  Papers longer than 45 minutes will not be considered, and it is anticipated that papers will typically be no longer than 20 minutes.  Exhibits of fan art will be considered for display.
Possible topics could include, but are not limited to:
Adaptations of Austen's work
Social trends or conditions in Austen's period
Discussions of Regency-era historical movements
What Jane Austen might have read
Themes or characters in Austen's works
Costumes, clothing, and dress in the Regency period
The Napoleonic Wars
This event runs in conjunction with a Regency Ball hosted by the English Students' Association to be held Saturday evening on campus as the final event in a series of bicentenary celebrations to include a film festival and Regency tea.  One-page proposals should be submitted to Dr. Alexis McQuigge alexis.mcquigge@uregina.ca before July 31, 2017.